5eb190eef12bc

Portal Registration Instructions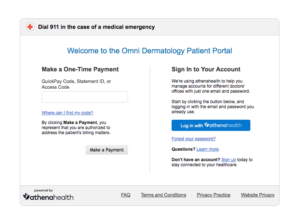 If you are looking to make a one time payment and have your bill available, please choose the option on the left. If you don't have your bill available, please log in or create an account in our patient portal.
If you are an existing patient, please login using the blue button that says 'Log in with athena.'
If you are a new patient that ALREADY has an appointment scheduled, please check your email to see if you have received a portal invite. 
If you are are a new patient attempting to schedule your first appointment, please click the link that says 'Sign Up' next to 'Don't have an account.'
New Patient Account Creation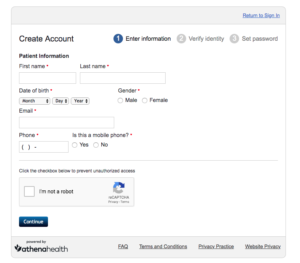 If you are creating a new account, once you click the link, you will be directed to this page. Please enter all fields.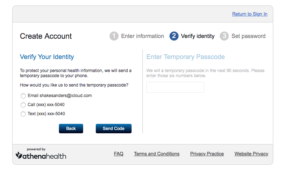 Once your account has been created, you will have to verify your identity. If you are having trouble receiving a passcode, please select a different verification type.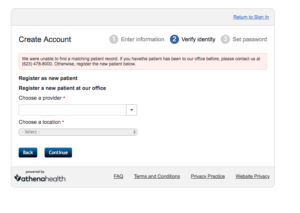 Once your identity has been verified, you will be able to select an appointment time based on location and provider.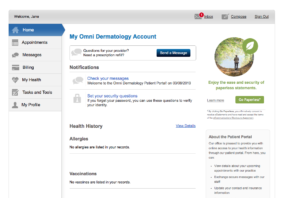 Here is a view of what your portal account will look like. As you can see, you will have the option to create an appointment, securely message your provider, pay your bill, view your notes and lab reports, and refill a prescription.
5eb190eef2f20

SCHEDULE AN APPOINTMENT


WE'RE LOOKING FORWARD TO MEETING YOU

---
*If you need a referral, please call our office to schedule.